…in my dyepot, along with some rarely seen in nature. All properly supervised, of course.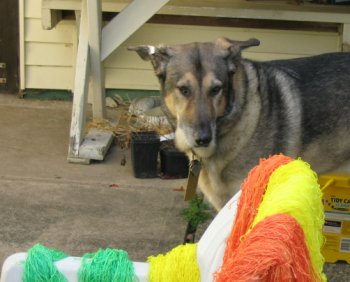 I'm not sure he approves.
I took a badly-needed Friday off, and spent that and the rest of the weekend up to my elbows in dye. I now have umpty-thousand yards of cotton, silk and rayon, in various weights and colors. Coming soon to an online store near you for weaving, braiding, and similar small projects. I had a purple dyebath break – there will be a special deal on some slightly-speckled yarn in various fibers. I hope to get phase 2 of the store up and running tonight or tomorrow, now that I have pretty things to put there!