Classes
I've been teaching fiber arts for over twenty years, for both reenactment groups and weaving guilds. Major venues include the Complex Weavers Seminar (2010, 2012, 2018), Peters Valley Craft Center (2011, 2012), and the Pennsylvania Fiber ArtsFest (2013, 2015, 2018). Like many others, I've moved into online workshops as well, teaching tablet weaving for the Braid Society in 2020, with another workshop tentatively planned for early 2022.
Lecture-only classes
Tablet Weaving Tour
Tablet weaving is known from places as far apart as Finland and Sumatra, and from Bronze Age Europe to the present. In each time and place, this versatile technique has been integrated into the local culture. The most common structures – warp-twining, double-face, and 3/1 broken twill –have been used in many times and places, but other types of tablet weaving are known from only one locale. This Seminar will trace tablet-woven structures through time and space, and show examples of the diversity of patterns that have been woven. The primary focus will be on four-holed square tablets, but examples woven with two-hole, triangular, hexagonal, and even octagonal tablets will be presented. There will also be a brief excursion into bands that could have been woven with tablets, but weren't.
Edges: Selvage & Hems, & So Much More
A wide array of techniques for finishing the edges of woven fabric has been used over the centuries and around the globe, including sewing, braiding, weaving, and fringe. The very common floating selvage is nowhere near the only option available, even on modern looms. This seminar looks at pictures and examples of different kinds of edgings, both integrally-woven and applied after weaving, from Scandinavian woven edging to Bolivian braided edging, and more. The class will discuss the pros and cons of each for modern fiber arts and present resources for learning more about their history and construction methods. Not just peripheral, these edgings can embellish your weavings while also making them sturdier and more functional.
Hands-on workshops
Workshop topics can be customized and adapted to the time available (two hours to five days), and to the experience level of the students (novice to advanced, including mixed classes).
Band Weaving
Weaving doesn't have to be complicated and expensive. Band weaving is an excellent introduction, and requires merely some sticks and string to get started. A two-hour course is enough to get a novice weaving, and to make a bookmarker or two. Longer courses can cover more elaborate patterning techniques and historical material.
Tablet Weaving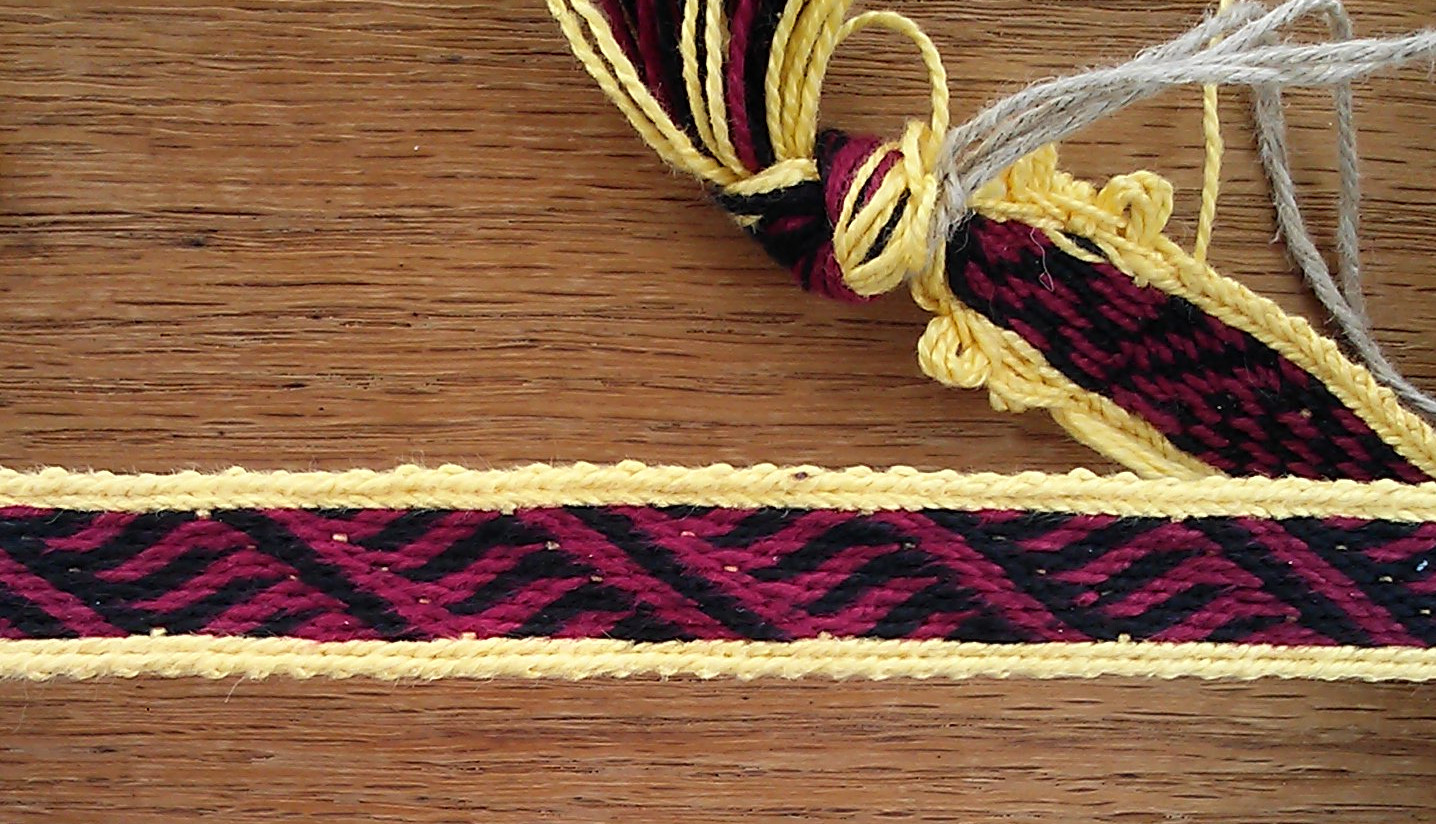 Structure, technique and historical background for a wide range of tablet (or card) weaving techniques, including basic warp twining, doubleface, 3/1 broken twill and Snartemo. Even beginners will be drafting their own patterns by the end of a two-hour course, and longer courses offer more possibilities.
Sprang
Structure, technique and historical background for an assortment of sprang techniques, including interlinking and interlacing, as well as shaping methods and incorporating beads. Advanced options include Coptic patterning and doubleface sprang.
Ply-Split Braiding
Structure, technique and historical background for ply-split braiding methods including single course oblique twining, plain oblique twining and more. Includes cord construction and three-dimensional shaping.
Miscellaneous topics
These are suitable for shorter workshops.
Fingerloop braiding
Naalbinding
Spinning