I spent my weekend in the dye studio doing sock yarn.
Lots of sock yarn.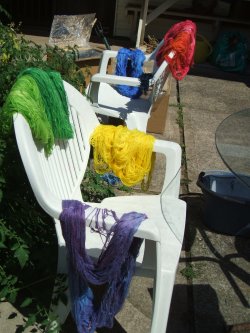 Mostly variegated, but also one batch of self-striping.
It was a three-day weekend here (there should be more three-day weekends in my life) so I had some extra time to play with string. I got eight skeins of yarn dyed (or nearly done), a few ounces of roving, and a couple of small sample bits. I had a request for a tiny skein of Penn State yarn, which went into the solar yarn cooker standing nearly on end so one end remained white.
I was well-supervised in my efforts.
The critters are shut out of the courtyard when I'm measuring dyes or there are things they could get into, but while I'm out there and there's nothing more problematic than drying skeins, Morgan and Grendel love to keep an eye on things. Usually it's Morgan, but he was sleeping indoors. The dog had to reveal his essential cat nature and sleep in the sun all afternoon.
I started a pair of socks from one of my first skeins of hand-painted.
I think I like the pattern, but the sock might be too big.
I'm treating the top of the leg as the swatch, which may or may not save time. I also worked on the silk-camel-merino, and blended about a quarter of it. Someone else was using my wheel, though, so I didn't spin any of it. No pics of the fiber – it looks like a blue blob, and you've already seen that.
Do you think I should have staked the tomatoes?