The front flowerbed is pink right now.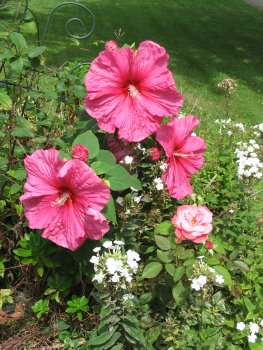 Extremely pink.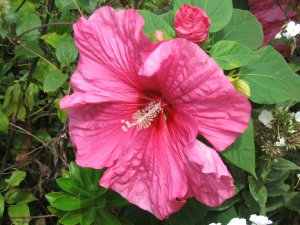 And in interesting shapes, even.
This is not a color I normally associate with the end of August. Isn't this supposed to be harvest season – golden sweetcorn picked this morning (straight from the Amish market), orange canteloupe (same source), red tomatoes still warm from the sun (or in my case yellow and black, but they taste just as good), green zucchini? Pink?? Where does that come from? It's a spring color, reminiscent of June roses, and all the more eye-catching for being so temporally displaced.
To help compensate for the overwhelming pink, I dyed some black and white ikat sock yarn. (Note the classy TidyCat dye buckets – useful things, those.) This was an experiment in speeding up the process. The self-stick plastic wrap makes a decent dye resist as long as you wrap it really, really tight, and it is so much faster than tyeing a traditional ikat.
That really isn't pink yarn you see in the upper right corner, honest. More purple, really. Or maybe red.