Yes, everyone thinks the gizmo looks like a bobbin winder of some sort.
But here's where we're most perplexed: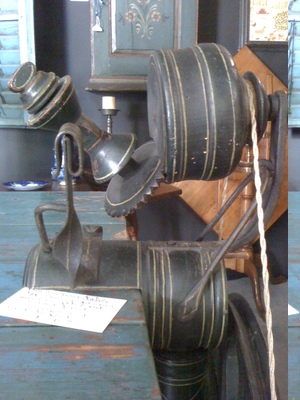 The putative bobbin area is hourglass shaped. There isn't an obvious way to mount a pirn or quill, and how would you get it off if you wound directly onto the shaft? My friend didn't get to try to take it apart, but unscrewing the top might be possible. It looks like there might be a seam around the central shaft, but that seems rather inconvenient.
This is also a very large and sturdy-looking contraption. Why so hefty? And is that an adjustment knob on top of the "bobbin"?
I'm hoping that someone recognizes as some piece of antique mill equipment with a particular purpose, something that seems more likely to me than that it's a handicrafter's bobbin winder.
With the feed loop and the orbital gearing and the winding, it's some kind of winder, but what, and where did it come from?