Today is chill and raining, but I have photos from last weekend for you. Only a week behind – pretty good, given my recent track record. Not that you would know, dear reader, because you can't see the half-written posts with photos from months ago that I still intend to finish…
Complete with eastern tent caterpillars. They don't do a whole lot of damage, but they're ugly. Crabapples are one of their favorites. The gypsy moths should be out soon too; they hatched about this time last year. Those do damage things, badly.
While I'm playing catch-up, I should give you an update on the sprang sashes. I first talked to the reenactor last fall, and followed up in late winter, when I offered to make a striped sprang sash for him. I did tell him that it wouldn't be quick, but I didn't think it would take this long.
I dyed the yarn in January, and warped up in February. The first time. I've started, taken it apart, redone the warp, and so on. Repeatedly. It's not that sprang is so hard, even on a circular warp, but I'm trying to get a particular result, and haven't been satisfied with the beginnings so far.
This time, I think I've got it.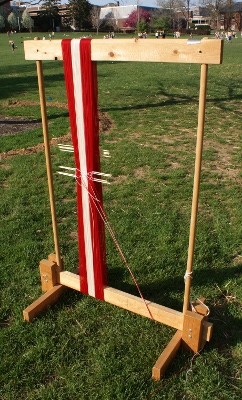 Tension is even, warp is smooth, and I got a few inches done. I think I'm finally happy with it, so now it should go quickly. The process is pretty fast; it's just the fiddling and perfectionism (and lack of time!) that has caused the delay.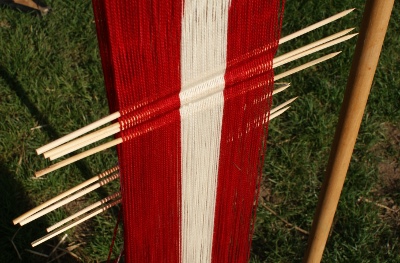 I'm taking notes, and will write up the whole process when I'm done, but I want it to be a complete article rather than lots of pieces.