I've put together a reasonable selection of supplies for beginner, intermediate and advanced card/tablet weavers, braiders, etc. Cotton, linen silk; cards; and so on – enough to keep a band-weaver happy for a very long time.
Most band weavers, that is. I realized recently that I do not have any stock suitable for the insane tablet weaver. Hm, this is a problem, right? I myself know several insane weavers, and they need supplies too, right?
But of course I wouldn't sell anything that I couldn't use myself… wouldn't be right. And thus:

I dyed test batches of three of the four new silks, all of which take dye beautifully. So far I've only woven with this one, the smallest of the four. This band used 11 cards. There are diagonal patterns:
doubleface,

and 3/1 broken twill.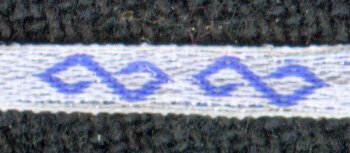 These are the techniques I'll be teaching for the Butler County Spinners and Weavers Guild in March, but I think perhaps I'll equip them with somewhat larger warp threads.
Weaving this was remarkably fun, but it was very difficult to keep a consistent width with the slippery silk and the few tablets. The nearly-invisible threads didn't help much either. I haven't come up with a use for such small bands, though. Trim for Viking Barbie clothes?
Three of the four are reeled silk organzine, and all are very fine. The fourth is a larger spun tussah; I'm looking for a higher-grade but still affordable spun silk for general use. I will be listing them online shortly. For now, all of them will be custom-dyed only. I'm not going to be able to build up a stock of pre-dyed silks for a while. I'm not sure I expect a whole lot of demand for the tiny ones.