Thursday morning I set off for the Poconos. It's about a three-hour drive, through lovely rural Pennsylvania (on an interstate, but rural despite that), through hills and farmland, and through some peak fall colors. The weather was lovely, and the trees were gorgeous. I could trace the topography in the colors: green in the valleys, red and gold on the ridges. No photos; I am a lousy blogger, and took no photos all day. (This post will be illustrated, though, never fear!)
I arrived around lunchtime, and took a quick spin through the Market. Not as much stuff as I'd hoped, but then I'd never been to a SOAR before and didn't really know what to expect. I ran into Grace, and Cyndy, friends from the area also there for the Market. I found Abby fairly quickly, and followed her around for a while. She knows everyone, and I know nobody, so I got to meet a bunch of people. Photographic evidence, courtesy of Grace: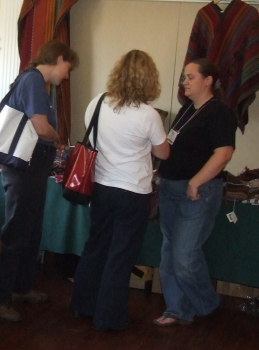 Me, Stephanie, and Abby having a fascinating discussion of Peruvian knitting. There was a display of woven and knitted items from the Center for Traditional Textiles of Cusco, tended by Nilda Callanaupa Alvarez. Everything there was fantastic – wool or alpaca (or a mix), colored with local natural dyes (except for imported indigo), and woven or knitted by Peruvian villagers. I looked at everything there at least twice, and finally settled on a piece woven by Gregoria Pumayalli A.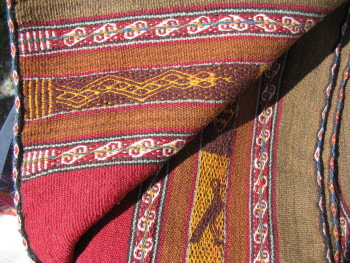 I didn't have a place with good light to spread the whole thing out, but it's similar to this runner by the same weaver, about 2 and a half yards by 16 inches.
The edges are finished with the Andean crossed-warp edging on all four sides.

The center panel is red, and both edges have a stripe with varied animal motifs in pebble weave flanked by lines of spirals.
The animals matched in both bands, but are all different down the length of the cloth.


After I purchased it, Nilda told me a bit about the weaver and her children. I don't know yet what I'm going to do with the runner. Right now it's keeping my feet warm. The quality of the yarn and weaving is such that it will last for a very long time regardless of what I do with it, and I would prefer to use it rather than hang it on a wall somewhere. It is certainly beautiful, but that doesn't preclude functional.
I learned something about myself. I am a weaver first, and only then a spinner or knitter. The room was full of spinnerly goodness, and many things for knitting as well since so many spinners knit with their yarn, but after a quick look I gravitated to the Peruvian weaving, and stayed there. I helped sell quite a few items, much to the amusement of one of the ladies working there.
I had a very interesting talk with Sara Lamb (and I apologize again for startling you!) about teaching and writing, and the future of weaving. We're both trying to figure out how to turn some of the energy in the spinning and knitting communities into weaving. Weaving techniques that don't require much equipment to produce fancy results are key to that plan, and tablet weaving fits that description admirably. You'll be hearing more on that in the near future.
I never did find Michael. I hope he didn't have horrible airline delays.
Despite plugging it here when it came out, I hadn't picked up this book yet:
I haven't had time to read the whole thing yet, but I can't recommend it highly enough. Go buy a copy. The money goes back to the textile center. The photos are simply gorgeous. It isn't an expensive book, and you'll enjoy looking through it even if you aren't a weaver. Here's an Amazon link
, but you can also purchase it through the publisher link above.
The Market closed at 4. The real SOAR attendees had to go off and do interesting things, and I had to drive home. It was great to meet people, but I wish I'd had more time. Hopefully there will be time for more leisurely visits sometime soon. Where's SOAR next year?