I've been repeating all week that March is fired, and I'm just giving it a couple of days to pack its bags and go. I've been repeating this, loudly, every time it starts snowing.
But the crocuses are finally blooming! No photos, because it's raining. Hey, at least it's not snow. I'll get some pictures soon.
I'm going to swap in some Christmas pictures instead. I know, wrong holiday, but I came across them while looking for something else, and wanted to share.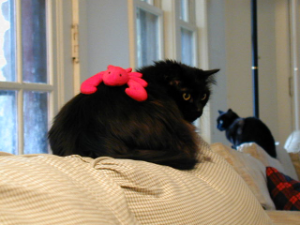 These are from the house we rented right after moving to Pennsylvania, so this is Christmas 2002 or 2003. Best Dog, Best Cat, and Demon Goddess Cat who is of course Best of All Possible Felines, or Any Other Creatures.