"Human sacrifice, dogs and cats living together… mass hysteria!"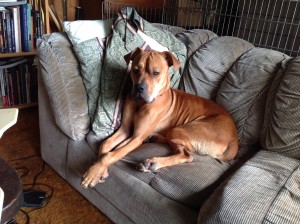 Meet Trygvi. (Trygvi: from the Old Norse word for faithful, essentially the Viking version of Fido.) He's a year-old boxer mix, more or less. He's a rescue, so we don't really know, but that's what the vet thinks. We've had him for two and a half weeks.
Trygvi spent the first week of that being quiet and needy. We weren't even sure he could bark.
He's over that.
Morgan the Ferocious Monster spent the first few days beating the dog up and eating his food. It's very important to establish dominance early. Now the cat is mostly spending his time in the bedroom, where canine presence is forbidden.
Tryg is snuggly and sweet, rambunctious and utterly without manners. We're working on that last, and he's already greatly improved. Formal obedience training starts soon. He needs a lot more exercise than Grendel did at that age. "A four mile walk? I'm all warmed up and ready to play now!"
It is possible to wear him out, but it takes work.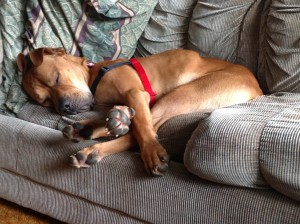 Everything goes in his mouth, absolutely everything. Trygvi is on a mission to disassemble the couch and eat it, bit by bit. Needless to say, he's not allowed to roam the house unsupervised. Crate training is a good thing.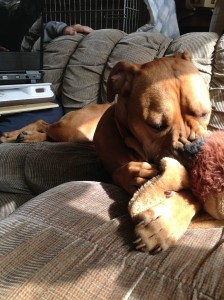 I suppose we'll keep him.
Entirely unrelated: medieval marginalia (NSFW).