I finished mulching around the raised beds today. Things are coming up: tiny cotyledons of lettuce and herbs, and robust paired bean cotyledons. The rhubarb is getting over its transplant shock and sending up new leaves, and there are green strawberries and green tomatoes and itty bitty peppers.
Photography called on account of rain, though. Sorry.
Now I'm in the kitchen with several pots of silk. Blue, orange, and the latest in a series of attempts to get a really good red.
The silk needs to be stirred every few minutes during the crucial times, so I'm hanging out in the kitchen with the iPad and a spoon.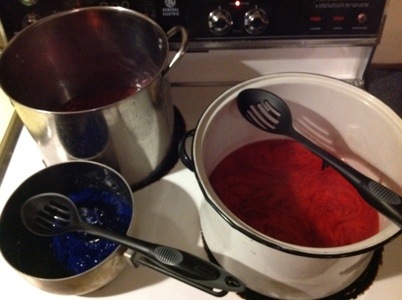 The cat wanders through now and then to see why I'm not petting him and whether he can eat it. Soon, Ferocious Monster, soon.