I have been teaching fiber arts in person since 1992, and online since about 1996. This website now features how-to information, photographs and resource lists for a wide variety of textile techniques. My specialty is historical textile techniques, especially those like braiding and tablet weaving that can produce very complicated structures with minimal equipment. I'm also interested in popularizing obscure techniques like sprang and naalbinding. There's history and technique information for some of these things available through the links on the left. The site blog,
String Notes
, is now the place for tips, tricks, book reviews, and other assorted less-formal or shorter writings.
(My apologies, but the store is shuttered. Not for lack of enjoyment, and I hope to be able to reopen eventually.) I sell supplies and equipment for braiding, tablet weaving, and other "small" techniques. A perennial problem has been that there's no source for high-quality weaving yarns in small quantities. Knitting yarns aren't right, and even the best weaving yarns come in quantities far greater than the tablet weaver or braider requires. Tablet weavers who want to do continuous warping need four (or more) cones of yarn, and who can afford that? Stringpage Supplies is now offering hand-dyed silk and cotton in two sizes and in a range of colors. Linen is also available, and wool suitable for tablet weaving will be coming soon. Everything is available in 100-yard quantities, and is wound onto quills so that you can warp or measure right away. Larger quantities are available, and skeins can be provided for the dye-it-yourselfer. I hope that you will find everything you need for braiding and narrow weaving. If something is missing, please let me know.

Fiber Event
My local
SCA
group has held a textile-themed event each November since 2003. The event administration moved to
Abhainn Ciach Ghlais
in 2010, and I'm very happy they've kept it going. FFF will be held at the Sieg Center, Lamar PA, the weekend of
November 20-22, 2015
. I'm organizing classes again, and would love to have you come teach. Class information will appear
here
as I get it.
Here are some of the things we've had in the past:


FFF I Classes


FFF II Classes


FFF III Classes


FFF IV Classes


FFF V Classes


FFF VI Classes


FFF VII Classes


FFF VIII Classes


FFF IX Classes


FFF X Classes


FFF XI Classes


FFF XII Classes


Things to See
Nick has
his own website
, devoted to his custom knifemaking. (And check out my Damascus tablet weaving beater on the gallery page!)
Topics in medieval and early Renaissance science have been moved to their own website at www.astronomicum.com. Some of the subjects over there: medieval astronomy and astrology (and related cosmology), herbals and the perception of plants, and cryptography.

Other String Stuff
Because of the way search engines work, I seem to get a lot of hits from people looking for information on string art or hair braiding. I don't know much about either of these, but here are some things to help you get started.

String art: try your local library - mine has a couple of books on the subject. Also, there's a very nice web page with information, patterns and photographs.

Hair braiding: I have been sent a couple of links - thanks!



About me

Send me email: sarah.goslee@gmail.com
(Since 20 June 1996)
This count is courtesy of WebCounter.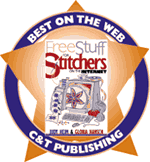 Copyright Sarah Goslee 1996, 2010