On New Year's Eve, I walk through the site of the State College festivities on my way to work and take pictures of the ice sculptures.
Here's 2007's best photo:

And my 2008 favorite: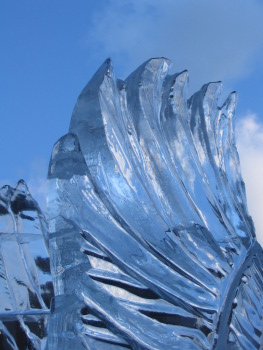 But here's what the 2009 sculptures looked like this morning:
They've changed the format, and instead of the sculptures being done by New Year's Eve, the crowd gets to watch the sculptors work. At least this year it is neither bitterly cold nor raining.
I walked through last night, and the big blocks of ice were all wrapped up in their protective insulating blankets. The little ones were done – I believe they carve them elsewhere and bring them in finished, since they don't require many blocks of ice.
Night-time photography is always interesting, but my Sony alpha does an excellent job in low-light conditions, barring a tendency to turn everything orange. (I have a photo of Morgan that makes him look like he's in flames.) I'm certain I can overcome that if I learn which settings to tweak.
I hope you all have a fabulous evening of whatever sort you find most congenial, and I'll see you next year.