Baking and the associated dishwashing were not my only activities today. There was quite a lot of coffee-drinking and snow-watching as well, seasoned by a large dose of last.fm.
A few more active endeavors: I can easily get to my bookshelf for the first time in the past year. Business stuff in big plastic bins had been obstructing the path, but they've now been relocated to a home of their own that isn't directly in my way.
I also cleared off my only work table. The desk is for desk stuff, the smaller table now holds the cutting plotter (with no room for anything else), the heat press and the sewing machine are on the dining room table, and that pretty much takes care of available flat surfaces. This one unassigned table had collected the usual assortment of clutter, and I got that all put away.
Leaving the space free for other projects: today, painting beads.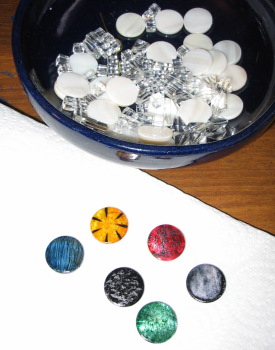 I'm using alcohol inks on shell beads, a combination that gives a pleasing iridescence and depth, as the translucent/transparent alcohol inks don't hide the shell pattern underneath. (Tamie made the bowl that is preventing beadly escapes.)
I'm not sure how well that quality shows in the photographs.
Changing the subject completely, Morgan is still the number one ferocious monster! I seem to have inadvertently created a googlewhack as well: I am the only person that Google lists as having used the phrase "valiant petunias". The valiant petunias themselves, though, did not do so well with the last week of cold temperatures. There's still some green, but not much. Still, an impressive run for a couple of pots of annuals.