You know the weather has turned when faceless-cat appears.
Noses must be protected, you know.
I made some stitch markers the other evening. One set is for me, the others are gifts (for knitters who do not read my blog).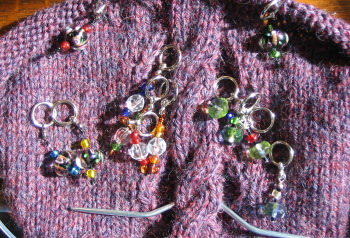 They are artfully posed on the second sleeve of my cardigan. I still don't expect to be wearing this before 2010, but I am making progress! I seem to be getting much farther on the knitting than on the weaving projects I've got in progress, even though the weaving is more important. Maybe the portability? Maybe that the weaving has to be good, but the knitting can just be.
The Famous Exploding Knife looks a bit different than when we last saw it. It has not been sharpened yet, but no longer has the copper-coated gouges.

The repairs meet with feline approval, or at least interest.