No, not about food. Why would you think that? I'm dyeing some cotton, and since it's at the stage where it needs to be stirred almost continuously, I brought the laptop in the kitchen to keep me company while I stir. Don't worry, not next to the dyebath – I'm pretty sure that fiber reactive dyes are not compatible with computers.
I'm feeling very accomplished, if not currently capable of accomplishing much. I read a thousand pages of grant proposal in 48 hours, a feat I hope never to repeat. Tonight, no proposals, but tomorrow the hard part starts – I have to write coherent and useful reviews on four of the eleven proposals (and no, I don't get to choose which four). That's much more challenging than simply reading them. At least it isn't for all eleven!
Interspersed with reading proposals, I did a range of entertaining things this weekend. There was a lot of photography, some of which will be showing up here. There was a bunch of dyeing. Adding water softener to the rinse water helps with the fastness of acid dyes on silk in my hard water, but not as much as I'd like.
I also did a batch of small skeins for myself.
I've gotten sucked into an online communal art project, and these are for my contribution. The theme is "Night Garden" (haunted, most likely), and Jane Yolen has contributed a poem as the kick-off piece. So far there will be poetry, prose, painting, drawing, perhaps jewelry, and… tapestry. I think. I have some technical details to work out, little ones, like "Is it possible to get string to do what I see in my head?" and "Can I mix tapestry and these other techniques without making a multicolored Gordian knot?" and suchlike.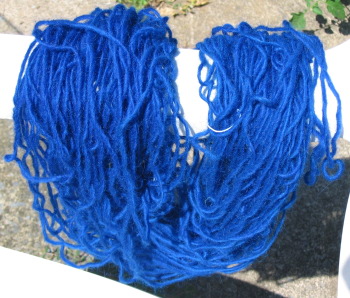 I dyed a skein of Lopi as well, now intended for a naalbound pouch. It's been a while since I've done any naalbinding, and it might make a nice change from all the knitting projects I've been carrying around.
The tomatoes have taken off in the past week. They've been leafy for a while, although the tomato jungle has been reined in with strategically-placed chicken wire this year.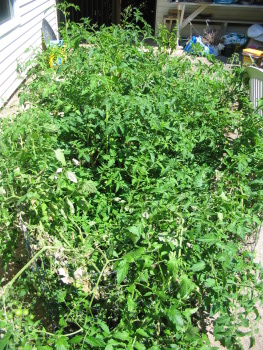 The Flamme is ripening clusters of orange fruit.
Another of the heirlooms is ripening, but I didn't rummage around in the foliage to find the tag.
Time to drain the dyebath!