First I decided that I wasn't going to mess with acid dyes on silk anymore because I was having such problems. But I like using acid dyes more than fiber reactive dyes, and I'm getting excellent results on wool, so I thought I'd try one more time.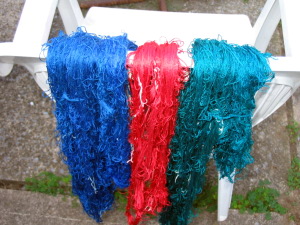 I'm getting good color depth, finally, (even in a bad photo) with the addition of way more citric acid than anyone would expect, plus some sodium hexametaphosphate (a water softener). I live in central Pennsylvania; the stuff that comes out of my tap has more in common with liquid limestone than it does distilled water.
What you can't see in the photos is that those still aren't rinsing clear in cold water. I know you can't get a clear hot water rinse with certain acid dyes, especially on silk, but everything has to rinse clear in cold water or I can't sell it. And that's after many rinses.
Grrrrrr.
I got a very good strike – the fiber took up just about all of the dye, leaving a nearly-clear dyebath. But as soon as I put the yarn in a cool rinse, it lost a lot of the dye that had apparently bonded. The rinse water was far darker than the dyebath! I'm not using water softener in the rinse – that's the next thing to try. I'd like this to work without major efforts on my part.
I know it's not the silk itself. It takes fiber reactive dye readily, so it isn't gummy, or starched, or anything like that.
My dyeing methods work just fine on wool, even without the water softener (and with a hot rinse).
I think it must be the water, and silk must be more sensitive to hard water than wool. I have to make stock solutions with distilled water or all kinds of nasty things happen (learned the hard way. Cherry red congeals, while sun yellow precipitates in strings. Ick!). But I can't practically use distilled water for everything including rinses. Cross your fingers for me that water softener in the rinse water helps, and if you have any suggestions please leave me a comment.
Having gotten hooked on spinning the silk cap, I also threw a couple more in the oven with the last of a couple of stock bottles splashed on.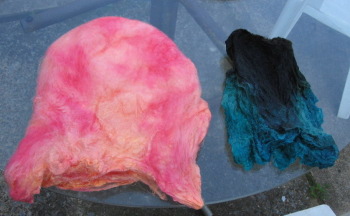 These are for me, but they're fun to dye so I might do up a few for sale.