Pennsic was lovely, not too hot and not too wet. I went to a lot of meetings, led some weed walks, did some weaving. Nick insists that most people who need a bookmark don't whip out their leftover yarn and weave one.
I thought he was probably confused: of course people do that. So I asked the woman camped next door. She admitted that she was more likely to whip out her yarn and tat one. Fair enough.
The Velociraptors were so happy to see us. I swear they've grown a pound while we were gone. Norathar is in training to be a shoulder cat. I believe I'll be needing shoulder protection.
Cawti needs no training to lounge beautifully. You'd never guess her essential Doominess from this photo, unless of course you've raised kittens.
The garden grew nearly as much as the kittens did. I got the first full-size tomato just before we left, a Cosmonaut Volkov. There are plenty more green, but none ripened while we were gone. I pulled out the peas and lettuce tonight. I will put more lettuce in, and maybe some spinach.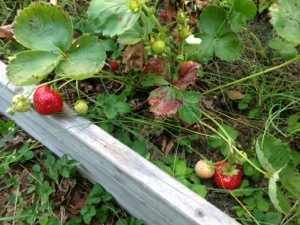 The everbearing strawberries really are.
It's truly August: the Turk's cap lilies are blooming.
Something was eating the milkweed. I leave it in hopes of monarchs, but this year I got milkweed tiger moths.
Trygvi spent the week with Nick's mom. He had a grand time racing around fields with the spaniel, but was so pleased to see us. Though yesterday he busted out of his collar and took a jaunt around the neighborhood. He's a brute. I bought two new collars, just in case.