Hummus and harissa, summer staples.
Put a dozen dried red peppers in a heatproof bowl and cover them with boiling water. Ignore for half an hour.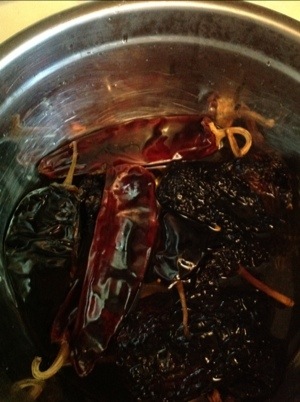 Track down your tahini, a bunch of fresh parsley (or dried, if it isn't in season), garlic (no alternative to fresh here), ground coriander, cumin, caraway (any or all to your preference), salt, olive oil, and lemon juice.
I use canned chickpeas for hummus, since it's hard to get dried one soft without a pressure cooker.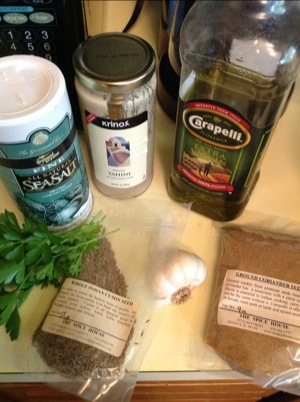 The chiles and spices all came from the Spice House. Today's chiles are guajillo, ancho, and New Mexico.
Meanwhile, get out the food processor. Buzz the parsley and two or three cloves of garlic, then add a quarter cup of lemon juice, more or less. Put in a quarter cup of the liquid from the chickpeas, more or less, a big spoonful of tahini, and a good glug of olive oil. If your chickpeas re unsalted, add some salt. Drain and dump in a 16 oz can of chickpeas.
Hit play on the food processor and let it run until the hummus is creamy. Taste it: mine needed more lemon. Resist the urge to just eat it with a spoon. (Or not.)
Scrape it out into a serving or storage container and give the food processor a quick rinse.
Cut the stems off the soaked peppers, slit them up the side, and scrape the seeds out. I use a pair of kitchen scissors and rinse them in the soaking water.
Add a hefty glug of olive oil, three cloves of garlic, half a teaspoon of salt, a teaspoon of coriander and a teaspoon of cumin. Process into a smoothish paste.
Store in the refrigerator in a capped jar, and with the surface covered with a layer of olive oil to keep the harissa from oxidizing.
In the short term, serve with hummus and and pita and fresh vegetables.
Don't forget dessert.