Saturday was incredibly warm, if a bit damp. We opened all the windows, let winter blow away. I found the first tiny crocus sprout, and the snowdrops have buds on them.
I think that might be the earliest I've spotted crocuses. We did the shopping, and I spent the rest of the day reading, writing, planning for an upcoming weaving class. Sunday started out cooler and very wet, perfect for a day at home puttering. I baked bread, more reading, more writing. The nearby town of Williamsport set a new record for rainfall on that date, with 1.78 inches. (I'm not sure why State College doesn't get its own records, but central PA records only seem to be reported for Williamsport.)
The rain got fluffier, and whiter, and colder. More and more of it fell. After setting the rain record, we went on to separately set the snowfall record for this date, with 6 inches. Storm total was more like 9 or 10. Fluffy wet slushy mess, coating everything and pulling down branches. The power was on and off for most of the night, and we awoke to a a world that looked like it had been sprayed with foam insulation.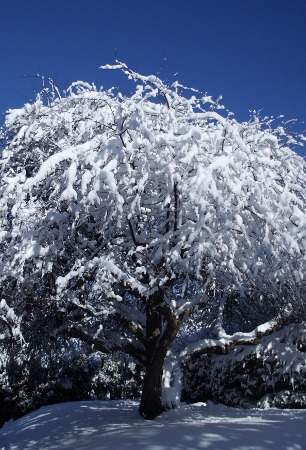 This second one is my back yard.
The green fan-shape on the right? Yeah. That is supposed to look more like this.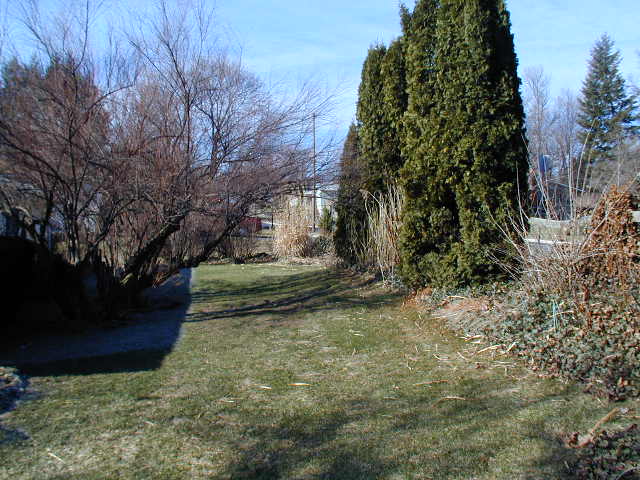 Wow. I wonder if it will recover.
It has become a beautiful sunny day, and everything is already melting off. It's supposed to rain much of the week, so we'll be back to spring shortly. This was just enough to demonstrate that even if I declared February to be the new March, March still has some Marchiness to display.