It's Christmas morning, if only for another hour. There's family, and food, and even snow.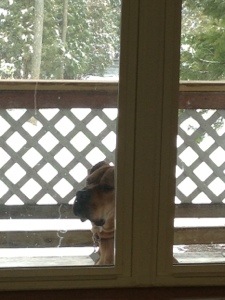 And the boxer, of course.
I'm looking out the window at the snow, with a mug of coffee and some knitting.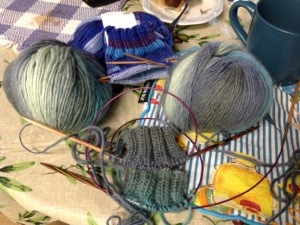 One sock on double-points, one pair of socks on two circular needles. I wanted to learn something new and that sounded entertaining. It took me a couple of tries to get everything going the right direction (mostly my brain, I think I did it right the first time but understood it wrong). Now it's kind of fun, but I'm not sure yet if the entertainment factor will survive turning the heel.
Later there will be the now-traditional crabcakes, and a long walk in the snow with the dogs. I hope your holiday morning, if this is a holiday for you, is as pleasant, and if not that you're having a relaxed and quiet Tuesday.
Unlike the dogs.