And Tamie. Or maybe we're just working too hard. Let me describe the symptoms. At 7:00PM last night we were still at work, sitting in her office, running the new Minitab distribution fitter on some watershed data, and giggling at the results. Statistics. Giggling. 7:00PM.
Something is seriously wrong here, don't you think?
We both went home almost immediately, prompted by our electronic furnace controller, which had turned down the heat an hour ago.
After a quick dinner of leftovers, I settled in with the dog and the cat to knit on the silk-mohair lace scarf. I finished two whole repeats with no mistakes, and with complete uninterest from the cat, who was sitting on my lap next to the ball of yarn. He lashed his tail if I poked him with a needle by mistake (do knitting needles come shorter? They must.), but paid no attention to the yarn. After last weekend's "ferocious monster" episode, that was a relief. This laceweight wouldn't stand up to the jaws of doom nearly as well! The dog, of course, slept the entire time. My feet were quite toasty!
I tried to take a picture, but apparently every rechargeable battery in the house was dead, including the ones in the camera. But really, it doesn't look any different from last time. I've made up the lost ground from ripping out quite a bit of it, and the length now exceeds the width, if only just.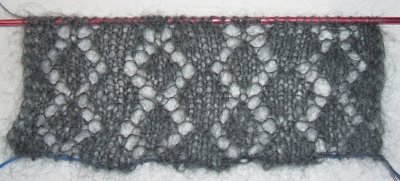 P.S. Tamie and I were quite entertained to discover that if you Google for ferocious monster, I'm second.