People have been making or working with string for thousands of years. They've been turning it into fabric practical or impractical, into thicker laces, fancy or plain, and into whatever else the fertile human imagination could conceive, and nimble fingers enact. There are more ways to make string into other things that I can ever possibly learn, no matter how long I spend. Happily, most of them are variations on major classes of effort: braiding, weaving, knitting, and so on. There's even a formal classification of textile techniques that serves to organize the myriad ways of turning one or several pieces of string into something more.
I get a great thrill out of learning a new one. I think I've pretty much gotten through the major classes of "things to do with string", but there are subclasses in all of those that will provide me with years of entertainment. I acquired a book on Lithuanian sashes this summer. These are members of several different classes and subclasses of textile – some are braided or sprang, some are woven or tablet woven – and all are full of gorgeous geometric patterns. The vast majority of the sashes are warp-faced pick-up on plain weave in bright colors.
Oddly, I've never done that. I developed a passion for tablet weaving early on, and skipped over all the other ways to weave a band. Sure, I know the theory, but I've never actually put that knowledge into practice. (And we all know that just because you read a description, that doesn't mean your fingers can do the job!)
This weekend I set off for an SCA event that was of great interest to Nick, but less so to me. I packed, er, about 40 hours of string projects – the interminable jaywalkers, the new lace scarf, and also a linen and wool warp and my little flat loom.
The Lithuanian sashes were frequently woven with a linen ground warp and brightly-dyed pattern threads in a heavier-weight wool (wool takes traditional dyes better than linen, and a heavier pattern warp gives better coverage). I used black linen, and two colors of wool. The traditional sashes were mostly white/natural linen, but the spool of black caught my eye.
The central patterned part of the warp is arranged such that each pattern thread is flanked by two ground threads. With R for the red pattern and B for the black ground, it looks like this:

B   B   R   B   B   R   B   B
   R   B   B   R   B   B   R

and always an odd number of pattern warps. The edges are arranged with the black linen and white wool alternating, a simpler pick-up warp.
I started with something very simple – diamonds increase and decrease symmetrically and regularly.
Passersby were amused by the pencils.
The red "spots" are what you make if you only drop threads. That is, create the shed using one or the other of the string heddles (as described in previous articles), then go across the warp and drop the pattern threads that you don't want to show into the bottom layer. Finally, pass the weft.
The second diamond is the "right" way to do it, where not only are pattern threads dropped from the top layer, they are also lifted into the top layer, so the pattern is formed of threads that float over three picks. That way you get a dense pattern on top of the band.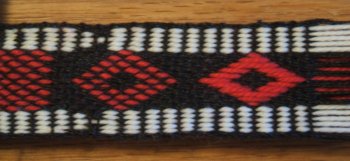 Fun! I'm ready to tackle some more complicated patterns, and to add in some kind of design in the white edge area. It's pretty straightforward, but I can write a more detailed tutorial with technique photos if there's interest.
Even though I'm still getting tomatoes and it was in the high 70s (F) today, fall has nonetheless come to central Pennsylvania. This is where I was on Saturday.