Can I please be excused from work today? I'm knitting lace. What? That doesn't count as a valid illness? What if I get a doctor's note?
Dear Boss,
I'm sorry, Sarah must take the day off of work to recover from a sudden obsession. In fact, she may require several days off to fully recover. You should continue paying her and not hold any unfinished work against her annual performance review.
Sincerely, Dr. Knitsalot
Or maybe not.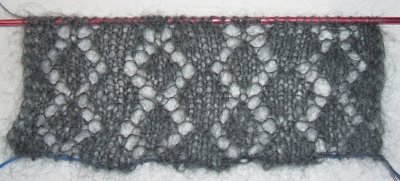 That's Knit One Crochet Too Douceur et Soie – 70% baby mohair, 30% silk from my local yarn store (actually one of two in this area), in a pattern adapted from Victorian Lace Today
by Jane Sowerby. I picked something simple so that I wouldn't need to carry a chart. You see, I did get to knit at work this morning in our staff meeting. Nobody has complained about me knitting as long as I'm quiet and pay attention. Actually, I pay more attention when I knit during meetings since my mind wanders less. That and I'd impale myself if I fell asleep.
What's that? Socks? Yes, I'm working on the Jaywalkers too, even though I keep starting other things. I was listening to old Lime 'n' Violet episodes, and one of them mentioned finishing a pair of Jaywalkers in a weekend. How on earth???? I'm not a particularly fast knitter, but I'm not that slow, and these things are taking forever! I'm over halfway through the foot on the second sock, so the end is in sight. And I have to say, I really like them. They fit well, if a bit big on me (since they aren't for me), but a very good shape to the foot and heel, something I have bit of trouble with sometimes.
Um, Mom, if you read this, those socks I was making you? They're awful. I couldn't possibly in good conscience give them to you as a gift. I'll make you another pair. Yeah, that's it. :)
This is the Ravelry update:
* You signed up on August 30, 2007
* You are #29977 on the list.
* 628 people are ahead of you in line.
* 14568 people are behind you in line.
* 57% of the list has been invited so far
It's looking like October 20 might not be a bad guess!