Sorry about that! Something went wrong with the web hosting early Sunday afternoon. It was of course my fault because I changed these administrative settings (which I have never touched and have no reason to alter). In other words, they did an upgrade somewhere and it didn't propagate correctly. And they quite possibly never would have noticed. I have cheap webhosting, which is usually fine since I don't need much handholding, but once in a while…
Anyway, back to string. Today as you may have noticed is October 1. Some things were going to happen on that date. One certainly has – my Etsy shop is up, at stringpage.etsy.com of course. Right now there's not a whole lot: some handpainted roving, some handpainted sock yarn (both solar-dyed, and many of them have appeared here before), and a couple of drop spindles that I'm suffering great temptations over. "No, these aren't good enough to sell. I'll just have to keep them myself. What's wrong with them? Er… um." The whole thing is very exciting!
The second thing: the Ravelry contest. The site was down for well over a day, so I'm going to extend the deadline until 9am October 3. That's Wednesday morning, Eastern Daylight Time, okay? I somehow don't think I'll get my invite by then, so no rush!
I have a new picture of the prize to entice you, now skeined and ready to go.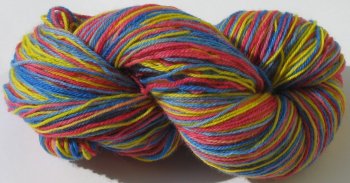 One skein (ca 460 yards) of self-striping handpainted merino/nylon sock yarn in very cheery colors. You know you want it!