Three years ago I bought a house with lovely landscaping. It had been vacant for a year, and was pretty much untended. I've been slowing becoming familiar with what's there, cutting back some exceedingly overgrown bits, and trying to undo some bad landscaping decisions. (WHO plants English ivy along a house with vinyl siding??? It's under the siding, wrapped around the gutters, and growing into the basement. Wait – who plants English ivy????)
But in return, I get glorious perennials, nicely-terraced rock beds, and generally to enjoy someone else's decades of hard work and planting. The snowdrops and crocuses are long gone, the anemones have faded, but the next wave of spring color is developing nicely.
The daffodils are just about finished, except for these: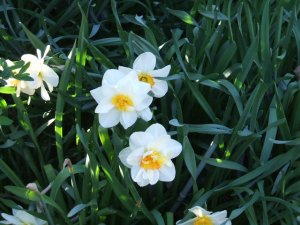 but the lilacs and azaleas are just getting started:
as is this, which smells wonderful but is as yet unidentified. (Yes, I'm a botanist, but in practice I can identify every last weed in my lawn, but only a small fraction of the things that are supposed to be there.)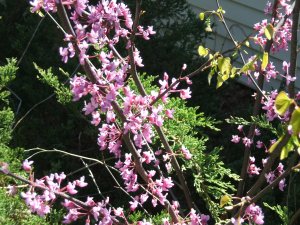 I'm not a big lawn fan, but I'm forced to change my mind when it looks like this:
Yes, I know that most people don't like dandelions in their lawns, but how hard-hearted do you have to be to complain about a carpet of violets? Given the success of ChemLawn, hard-hearted seems to be unfortunately common.
I'm slowly adding my own elements to the garden. I've done a lot of pruning, and eliminated a couple of vines that I didn't like. I'm planning to rearrange the giant clumps of daffodil bulbs (but I've been planning that for the last couple of years, and somehow never did the digging), and thinking about where to put a small vegetable garden. I keep a captive tomato and some herbs in pots in the courtyard (did I mention, my house has a courtyard!!!), but there are some other things I'd like to grow as well. This spring's project was berries: three Heritage raspberries and three Navaho blackberries. They come as bare-root dormant plants (also known as dead-looking sticks). The nursery ships them at the appropriate time for planting. This year, it was snowing at the "appropriate time", so no planting occurred for a week and a half. Four of the six seem to have recovered, but I'm still waiting on two of the raspberries to confirm their aliveness. I'm talking to them frequently, hoping to encourage them.
I spent some time cleaning out the old stems and stuff from the terraced bed on the side of the house. A bit later in the year it will be jam-packed with flowering perennials of various kinds. Right now you can see the tulips. And the dog, who wants to know why I'm dawdling since there is just nothing good to sniff right there.