I have finished nothing. On the other hand, I have started nothing, despite the allure of freshly-dyed sock yarn. (I want extra credit for willpower!!!!)
I finally gave in to the hive-mind and put in for a Ravelry invite. (What can I say? I'm slow.) Er, yeah…
* You signed up on Today
* You are #29977 on the list.
* 18923 people are ahead of you in line.
* 0 people are behind you in line.
* 35% of the list has been invited so far
I could start a betting pool: The person who picks a date and comes closest wins…. alluring dyed sock yarn, of course. Of course, it may be a loooooong time before you get to collect your prize! Actually, that sounds kind of entertaining – if you want to play, leave me a comment.
And here is a swatch in one of the drool-inducing sock yarns. Yes, I dyed it myself, but I like quite a lot, and find it drool-worthy even if that may be somewhat immodest.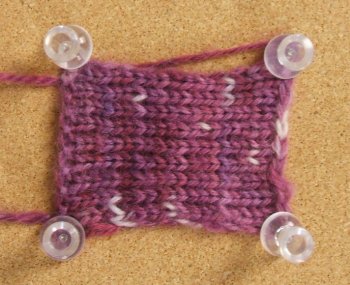 That is a small piece of the grape ikat, knit up on size 1 needles, and if possible I like it even more knitted than I did as yarn. I didn't take a photo of it skeined, but I should, since it looks quite different than it did when in its ikat-layout. The ikat stripes are just a few stitches long.
I've been knitting on the never-ending jaywalkers. I swear I have! These are the socks of Sisyphus! But I think the second one might be getting longer. Right?????? How do people just whip these out?
Another Sisyphean effort: I've spent more time ripping out this purple wad that's supposed to be a tanktop than I care to think about. Or maybe Penelope is a better role model? I haven't yet made it past two inches. This was supposed to be my easy knitting.
When I pulled it out of the bag to take a picture, I discovered that the ball of yarn had spontaneously self-destructed. See the tangled mess on the right? I'm determined, though – a ball of purple yarn (or several) WILL NOT WIN. This will be a tanktop. Someday.