My mom called me to ask about the tulips. I said I'd post more photos, and that was a week ago… So I took some more yesterday. The early tulips are long gone, and the mid-season flowers are winding down.
The late season tulips are just starting. We've had a string of cold days, so the buds are dawdling.
Here's the one I'm waiting for.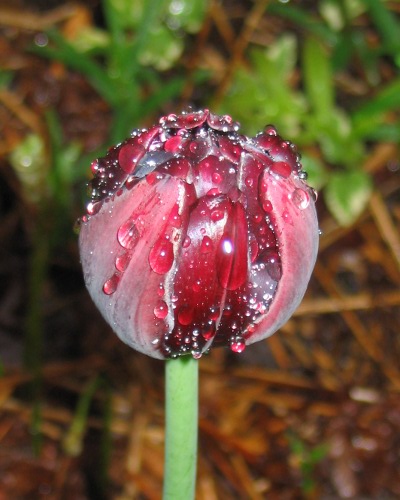 The "black" tulips are the ones that most caught my fancy in Amsterdam, and they are the latest of the bunch. This mutant creature is a double-flowered black tulip, and I'm anxious to see what it looks like.
Socks make the best travel knitting, so I started a pair before I headed off to Georgia.
These are the "9 to 5 socks", pattern by Nicole Hindes (Ravelry page). I tweaked the pattern to create opposite diagonals on the second sock; the original pattern uses the same twist on both. I have two ankles and no heels because I didn't want to start an unfamiliar heel pattern while travelling and in meetings, so I put the first leg on waste yarn when I got to that point. Nearly to the same point on the second one, and this time I'll do the heel and foot, then go back to the first sock. Yarn is "Lawnmower", sock weight 75% merino, 25% nylon. I'm out of Tulip colorway, but obviously it's time to dye some more. Maybe to match the photos on this page?