I woke up this morning to an entirely unexpected sight.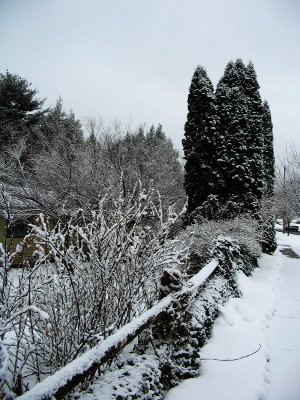 The weather forecast predicted rain, but instead we got the fluffy wet snow that vanishes from the roads but sticks to everything else.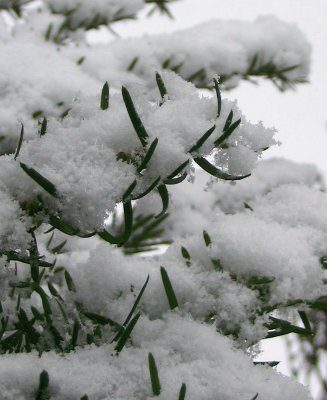 It glued itself to the trees, piled up on the branches, decorated everything in sight.
What's been going on around here? I've been writing a lot. I will have an article on Snartemo tablet weaving in the next issue of TWIST. Yet another reason you should subscribe if you don't already. I've been working on my class for the Complex Weavers seminar. I haven't been doing much weaving, but I've been thinking a lot about weaving. I've come up with a new way to teach beginners – anyone want to have me out for a workshop?
I reorganized the Stringpage Supplies catalog and added a bunch of new items. I try not to use this blog as a venue for self-promotion very often, but there are some pretty new things there, and more to come.
I finished the second sleeve of the neverending cardigan and started on one of the front panels. Maybe next winter…
I went to an SCA event in February for the first time in a while. I stepped into a side room where one of the most important SCA ceremonies was taking place, and there was a poppet on the display table!
News about the 2010 Textilforum is starting to appear. It will be in South Tyrol, 6-12 September. It sounds like great fun, just like the first one, but I just can't manage a trans-Atlantic trip every year. Maybe I should start buying lottery tickets.
This is probably of interest to nobody but me, but it's my blog and I want to share.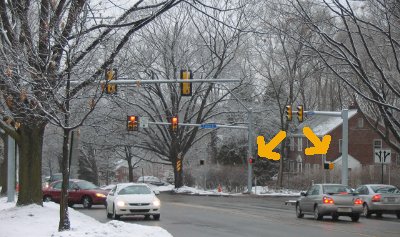 I cross a very busy intersection twice a day on my travels to and from work. Last night, for the first time, the crossing had actual pedestrian crossing lights with the walk and don't walk figure. It makes me very happy when my tax money is put to good use.
And one last thing: some remarkably lovely Dutch books. I saved this to send to Laura, since she's interested in bookbinding, but I thought I might as well share with all of you.