After a few warmish days, my house looks like this.
It is kind of pretty, but not so good for my gutters.
Some of you admired the snow-cake on the patio table. Well, it proved to be too much for the poor old thing. Nick had that table before I started dating him, so it's been a very long time. (And no, I have no idea why we moved it cross-country twice.)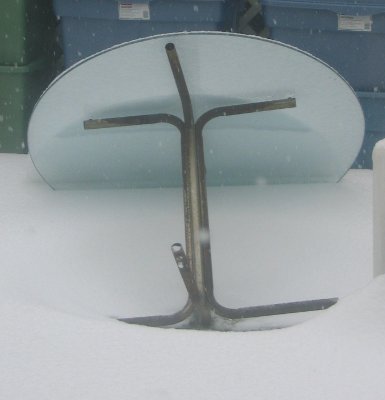 The glass top is still fine because it landed in a snowdrift, but one of the tubular steel feet bent or broke. I like having a glass table in the courtyard, because unlike the very common plastic ones I can dye on it without staining. I have priorities you know.
After that first day of discomfiture, the dog remembered that he liked snow – bouncing, running, playing. The hip medicines have been excellent – he no longer limps at all after that sort of exertion, but Grendel is an old dog and needs lots of couch time to recover.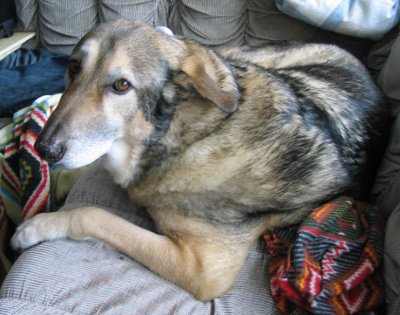 Morgan demands equal time.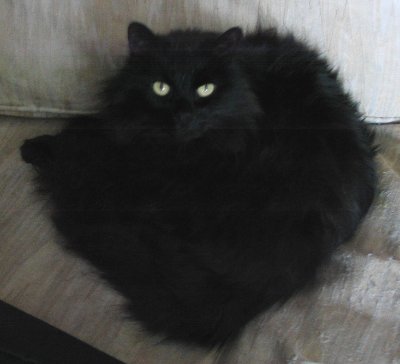 I got some good things in the mail this week. They will keep me entertained if we get snowed in again.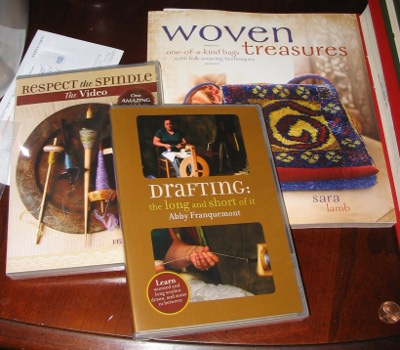 I haven't yet done more than skim through Sara's book, and haven't even unwrapped Abby's DVDs, but will report back after I've spent more time with them. I'd kind of like to read Abby's spindle book before watching the DVDs, but my copy still hasn't shown up.