When my brother Nate was in elementary school, his class learned how to make what the teacher called "Dutch mini-pancakes". He thinks maybe fourth grade, but is no longer sure exactly when or why they learned this. These Dutch mini-pancakes were a great favorite for a while, but I'd completely forgotten about them until I was in the Netherlands last fall and had the opportunity to try poffertjes, the actual tiny Dutch pancakes.
When I mentioned to my mother that we'd had these, and that they weren't at all like I remembered Nate's being (except of course for the butter and powdered sugar!), she actually found and scanned the original recipe for me.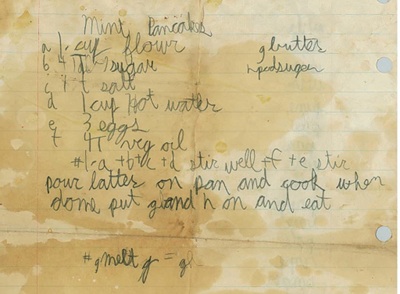 It says:

Mini Pancakes
a 1 cup flour
b 4 T sugar
c 1 t salt
d 1 cup hot water
e 3 eggs
f 4 T veg oil
g butter
h pod sugar
#1 a + b + c + d stir well + f + e stir
our batter on pan and cook when
done put g and h on and eat
# melt g

Already thinking like an engineer, wasn't he? You can tell from the state of the paper that this was a much-loved recipe.
The poffertjes we ate in Einhoven were puffier; Nate's recipe makes something more like a small crepe. There was nothing else to do but make them both and do a taste test!
After reading a bunch of "traditional poffertje recipes" online, I settled on something like this composite version:

1 c flour
1 egg
1 tsp sugar
1/4 tsp salt
1/4 tsp vanilla
1/2 c + 2tbl milk, warm
1/2 tsp instant yeast
1/2 tbl butter/oil

Mix yeast, sugar, warm milk.
In separate bowl mix eggs, salt, vanilla.
Mix in flour.
Mix in milk.

I mixed up a batch of each. Nate's batter is thinner; the pofferje batter is thick and bubbly. Notice the necessary accompaniments: powdered sugar, melted butter, berries.
The difference persisted through the cooking.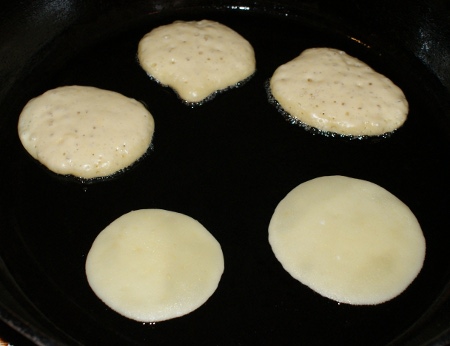 The final product: thin, sweet, eggy mini-pancakes from Nate's recipe, and puffy yeasty ones from the online recipe. We ate them with butter and powdered sugar, or berries. Or all of the above.
Both were delicious. I'm likely to make either or both of them again, though probably mostly for special occasions since it takes a lot of time to make the cute little pancakes. In the Netherlands, there's a special poffertje pan with wells to make the puffy round cakes in, but I'm doing them freehand.
Happy birthday Nate! (Monday, actually, but I'm behind on blogging. Of course.) Come visit and I'll make you pancakes.