Just when you thought you were safe, because Penn State football doesn't start up again for months… comes Arts Fest: just as many people, and much longer! Many blocks of downtown are closed to accommodate the many artists there to display and sell their works, and the 125,000 people who come to admire and purchase. This is a big deal here in State College. They even bring in landscaping. Rocks, plants, soil, mulch…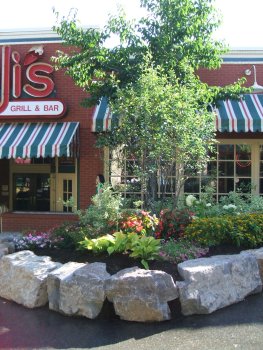 That tree? Not usually there.
Once upon a time it was a small group of local artisans, but it has expanded into one of the almost-generic arts festivals, with the same group of traveling artists you find everywhere on the East Coast, with a few Pennsylvanians thrown in. The locals got fed up, and started a new local arts festival, same weekend but four miles down the road. (Er, yeah. While I support local artists and applaud what they did, I've never been… going to that one involves driving, and parking, and traffic, while the State College one is unmissable since it's along the route I walk to work.)
I do wander thru at least part of it every year. My reactions are as always split between, "People pay money for that?", "I could do that better myself", and "Wow!" The categories aren't mutually exclusive, but close. There's a lot of jewelry and pottery, and not much fiber arts stuff. Let's face it, there aren't that many fiber arts things that people will pay enough money for to be worth putting the effort into trying to sell. Simple woven goods. Around here, people will pay money for quilts. Some of the clever kitschy stuff. But nothing really spectacular.
Maybe this year will be different. There are some possibilities – I have an assortment of ideas of fiber arts projects that would work in this kind of setting. But then, I have an assortment of ideas for just about everything. Ideas, my specialty. Follow-through, not so much.