The Gotland is all spun! There's two skeins of S-spun/Z-plied and two skeins of Z-spun/S-plied. Why, you might ask? For fun with weaving! More to come…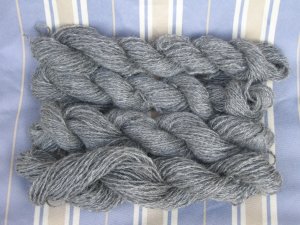 I realized as I was taking the picture that I skeined them all in the same direction regardless of yarn twist. It probably doesn't make much difference because the skeins are so loosely twisted, but it still seems like I should do it in the correct direction. Not enough to actually do anything about it, though. The one in front hasn't been finished yet – see
the difference? These are for weaving, so I've been soaking them in very hot water, whacking them around a bit, then letting them dry under tension.
I don't think I ever posted a pic of the cherry bomb roving in its final state.
It has now achieved its final final state. Well, penultimate final (?) since I do plan to make something from it if it is ever cool enough to touch wool again. The colors are better in the photo of the roving. I took the picture of the yarn this morning, and it wasn't actually sunny yet.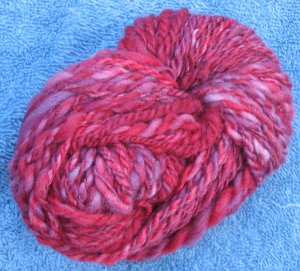 But being so hot, it was a lovely weekend for solar dyeing. I didn't get around to my solar yarn cooker improvements, but I did do two batches of roving and a silk cap that I've had for umpteen years. [Note to self: work with silk before doing yard work. Scraped up hands are so not compatible with fine silk.]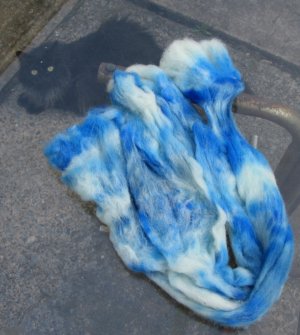 The silk is dyed with the leftover dark red that I was scared to use because it looked so disgusting when wet. Know what? It's just lovely on the silk. Of course.
In the garden, a few new things are starting. I missed one solitary white flower that I would have loved a photo of (never seen anything quite like it). Too slow, though. The clematis is the only thing in full bloom right now.
I need a taller trellis.