The nearby town of Huntingdon holds a Mayfest every year, on the last weekend of April. They have a time-travelling sort of theme, with Renaissance, Rev and Civil wars, and more modern eras of US history.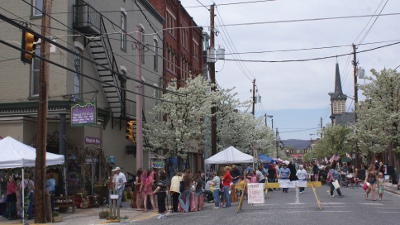 This year the local SCA group provided a bit of historical flavor for the Renaissance section (though we did medieval, mostly – don't tell anyone). There was fighting and dancing, of course, and I did "Medieval Housewife" and set up a display.
I had the gamut: sewing and textile tools, of course, but also pottery, medieval foodstuffs, writing implements – whatever I thought would be neat to display. It was the first hot day of spring – nearly 90F – and the beeswax in my tablet heated enough to send its sweet aroma wafting around the display.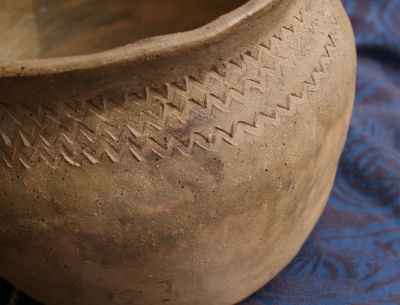 Nick and I took a spin around the Fair to see the sights and eat fair food. The wildlife rescue group had an enormous skink and some raptors on display, including this piratical barn owl.
We also took a tour through the Redbud Quilt Guild display and competition, and saw some beautiful quilts. No interest in doing that myself, but I like to admire the work of others.
Lots of pictures were taken of me in my Medieval Housewife clothes, but I don't have any of them. Sorry.