The upload is now working, so I can share with you the current state of the interminable stripy socks.
Finished. Both of them. That was my Christmas activity while spending time with family, and I grafted the toes on the 26th. (I managed to graft one of them purlwise – don't tell anyone, okay?)
And yes, that's today's weather: very blustery, with snow. There are just enough moments of sun to keep it from bleakness.
At least this year the First Night ice sculptures will not be melting all over the street.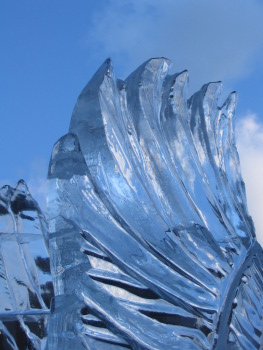 I'm at work on this New Year's Eve, and must get back to it. I have numbers to crunch.