Today is my house's birthday, as my house anyway. Much like a stray cat, I don't really know when its birthday is, though I do know my house is considerably older than I am. We were told it was built in the 1930s, at least the first part, but it doesn't show up on the SCS 1938 air photos. Hm.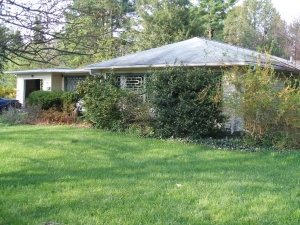 Although I've been in this house for four years, I'm still finding new things.
They nicely complement the things I already knew about.
Buying a house (or even renting one) that had been lived in by people who liked gardens is always highly entertaining. Even if they did things I would never do, like plant English ivy around the house. The house with vinyl siding, that is. There were some unfortunate interior choices as well, but those are mostly fixed to our taste. The ivy, I'm still working on. You know the old gardener joke? Q: How do you get rid of ivy? A: Sell the house.
If I've owned the house for four years, then I've been back in Pennsylvania for six years, half again as long as I've lived anywhere in my adult life. No wonder I'm feeling kind of fidgety. It's obviously way past time to move several states away. (Don't worry, I have no plans to actually do so, unless the powers that be close down my lab as threatened. For now, everyone is ignoring that possibility.)
I'm going to go mow the lawn. Again. The house doesn't seem to appreciate birthday cake, and it seems only right to do something for it.