I thought you might like to see some updates on the bulbs.
This bed has snowdrops, tulips and daffodils.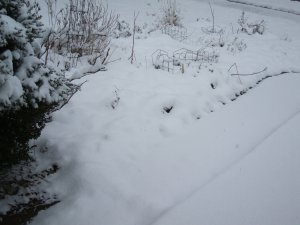 And here are the crocuses.
Looks like about 4 inches, and still falling. Happily, the long trips to New York were the past two weekends, and today I can stay home and drink coffee.
And catching up:
Hi Virag! Nice to see you here. We stayed in PA for Thanksgiving last year because Laura came to visit. I haven't written a tutorial for the pick-up bands yet, but I have all the photos taken. I just need to find time to write it. Since I know someone is interested, I'll try to move it up the queue.