The snowdrops expand.
And they're no longer buried in snow.
It was very warm here on Friday. As we were loading the car to head to Buffalo, I predicted that the first crocuses would be up by the time we got back.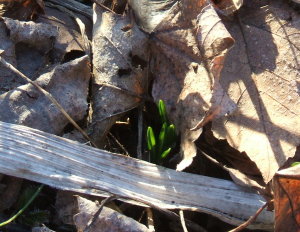 Nick and I were in Buffalo to judge a regional SCA art competition (Ice Dragon). He judged metal working, and I judged fiber arts. Most years I complain about the lack of weaving entries, particularly tablet weaving. This year, there were nine weaving entries, and eight of them were tablet woven. There were no other fiber arts (spinning, weaving, dyeing, knitting, etc.) entries, which surprised me a bit. Six of the entries (by the same weaver) were brocaded tablet weaving, and absolutely spectacular. That's a form of tablet weaving I don't enjoy, and don't do particularly well, but it is awfully impressive to look at.
Laura, take a look at the second image here, with the drawing and embroidery. It made me think of some of the things you've been doing, with the botanical embroidery motifs.