I woke up this morning terribly excited to be able to walk the poor neglected boxer. Then I looked at the weather: 0F. Back into bed I went. An hour later, when I asked Trygvi whether he wanted to go outside and pee on things, he just looked at me from the comfort of the couch. "Mom, are you kidding? I was out in the middle of the night. It was cold. Mom, you know I don't have any fur." Spoiled boy that he is, I let him get away with it.
This kind of weather requires hand-knits! These are the long-delayed 9 to 5 socks, tweaked to be symmetrical rather than identical in the twist direction, in yarn I dyed. They sat around for months with all but the toe grafting completed, then I misplaced them. But they're wonderful none-the-less!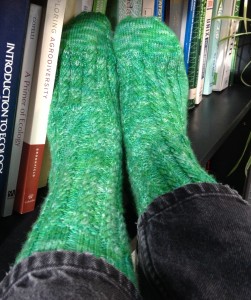 And then there's this brilliant piece of knitting.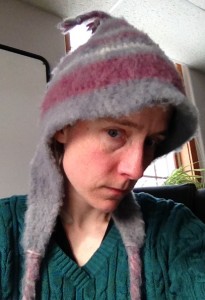 It is a knitted and felted alpaca hat from the farmer's market near my mother, made by the woman who raises the alpacas I believe. Is that not amazing? I had trouble taking a selfie with both the antennae and the dangly tassels, so I went with the antennae. Of course. I admit I was skeptical when I opened the box, but it's absolutely wonderful.
Changing gears entirely, or as close as you can get within fiber arts, go look at this embroidered dress on Midori Snyder's blog: a hand-embroidered version of the 1526 "Adam and Eve" by Lucas Cranach. I can't even imagine.