It seems like everything I've done with string for the past couple years has been for classes and articles and such, and it feels wrong to me to put much of that on the blog. If nothing else, someone has paid money for that piece of knowledge, and I don't want to just give it away for free.
Which reminds me: I don't think I ever mentioned here that I have an article on nearly foolproof kivrim/ram's horn in the Fall 2012 issue of TWIST. If you've ever struggled with that pattern (and you're by no means the only one!), this article is for you. (A new subscription is $10, and you get access to the back issues. Why not join right now?)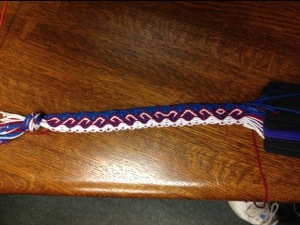 I had help putting together the sample, of course.
There are certain advantages to having an elderly cat: he sat on my lap while I wove the sample, and merely made faces at me when I used him as a photo accessory. When the eventual replacement kitten(s?) show up I'll be back to weaving behind closed doors.
Lots of samples, lots of demonstration pieces. Interesting, useful, but not necessarily fun.
And then there's this.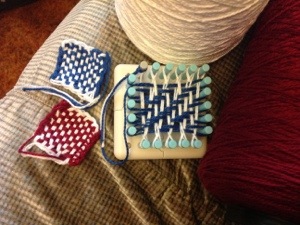 I was messing around with a tiny pin loom. It's actually an adjustable kit that I picked up several months ago with a half-off coupon and finally got to play with. The pieces aren't for anything, no class or article or workshop in my future. They're just for fun.
Because, you know, I like string.